CheckMate VMB-XL has been the mainstay of sustainable vine mealybug control since 2010. The pheromone dispensers are placed strategically in the vineyard and provide season-long control of the pest.
Suterra introduced a sprayable formulation in 2016 that allowed growers to precisely respond to in-season conditions.

"The reviews and adoption of this product have been remarkable," says Lauren Simpson, Product Manager at Suterra. "Growers and PCAs like the flexibility to work within their budgets to apply CheckMate VMB-F when and where it is needed. Although, many growers continue to deploy the CheckMate VMB-XL dispensers for the season-long control they have come to count on over the years. These two products give growers a choice between two very effective and trusted mating disruption solutions."
Neighborhood Management Initiatives
Perhaps one of the most important developments in the fight to control vine mealybug is the AVA-wide or neighborhood control initiatives some areas have started to employ.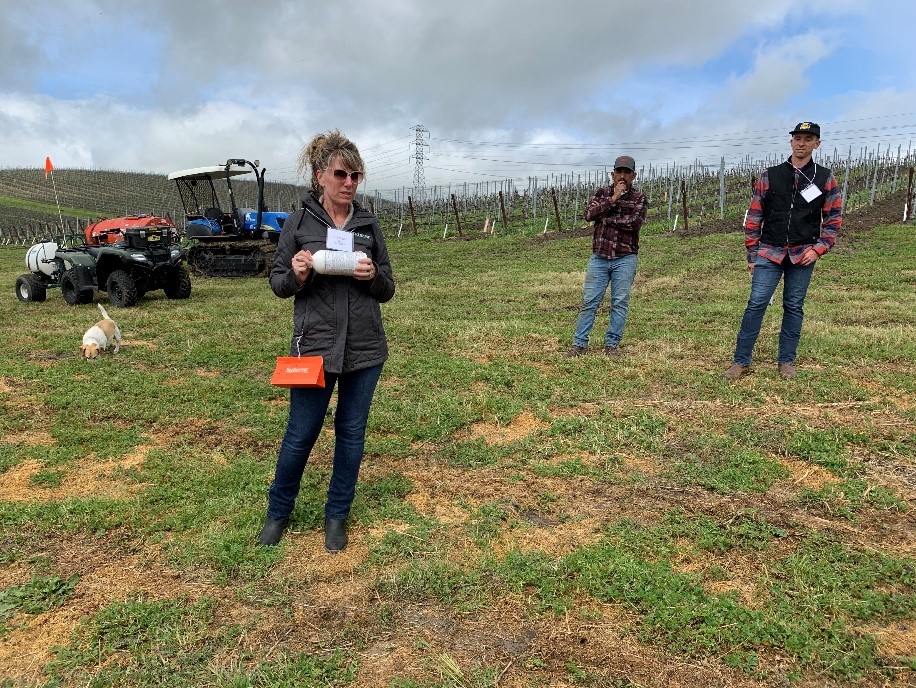 "When your neighbor has a VMB problem, you have a VMB problem," says Loraine Lee, Senior Sales Manager for Suterra. "In many areas like Napa and Sonoma county, smaller vineyard owners have gotten together with their grower associations to fight the problem together. They realize the importance of mating disruption for keeping pest populations low."
Season-Long Results
Another development in VMB mating disruption is the introduction of a new competitor product. In head-to-head trials, CheckMate VMB-XL more reliably released an effective amount of pheromone for a longer period of time.
"There is a threshold optimal amount of pheromone a dispenser must release in order to effectively cause mating disruption throughout the vineyard. Simply having a high weight percentage left in a dispenser is not a good metric for how long it lasts. Duration should be determined by how the pheromone is released throughout the season. Our proven track record of 210+ days of effective mating disruption makes our VMB-XL dispenser the longest lasting on the market," explains Lauren.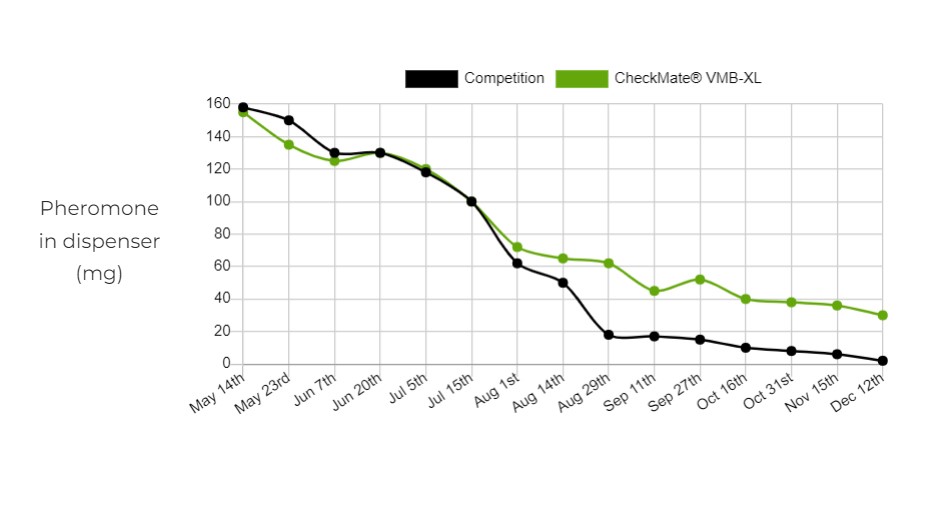 To determine which product is right for your vineyard, call your local Suterra sales representative, PCA or ag chemical distributor.