Suterra knows that the organic label is becoming increasingly important for growers as demand for organic products continues to rise. We have always striven to create innovative high-quality products for our growers and the organic market is no exception. Learn about Suterra's organic products, and how we are connecting with the organic community at the 2021 Organic Grower Summit, in this short article.
What makes a mating disruption product 'organic'?
As a principle, inputs into an organic system must be natural. Synthetic substances are not allowed in organic farming. However, there are specific exceptions to this basic rule and pheromones are one of them. The active ingredient in Suterra's mating disruption products is a perfect replica of the sex pheromone molecule produced by the target pest. As a result, the synthesized pheromone is nontoxic and naturally biodegradable once released, just as the insect's natural pheromone is. Any ingredients that would prevent a mating disruption product from being authorized for use would therefore be due to supplementary ingredients or method of pheromone delivery.
As a company, we pride ourselves on having a wide variety of products approved for organic use. We have organic solutions available for almost all of the pests we combat and many are offered across multiple platforms including CheckMate dispensers and Puffer. For the 2022 season Suterra launched an organic authorized version of our navel orangeworm Puffer, Puffer NOW-O Ace is now available in California. Many of our products have also been reviewed and listed by CCOF and can be easily found through their MyCCOF Materials Search, including CheckMate® VMB-F, a sprayable pheromone for vine mealybug mating disruption.
Suterra attends the 2021 Organic Grower Summit
A successful Integrated Pest Management program takes a village, which is why Suterra was immensely thankful to have the opportunity to connect with growers, other organic input providers and agricultural professionals at the 2021 Organic Grower Summit in Monterey, California.
Our team had the opportunity to discuss with agricultural professionals how mating disruption plays into the organic scene, why monitoring for pests is imperative for a successful Integrated Pest Management program and more while attending this keystone summit.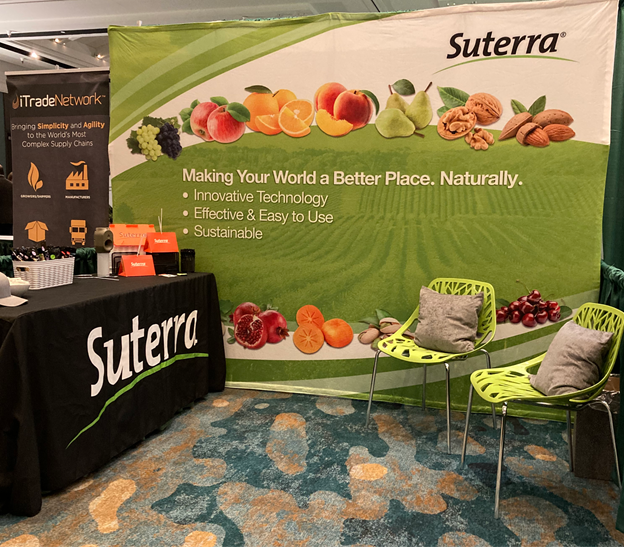 If you have questions about mating disruption, Integrated Pest Management or Suterra's role in the organic community, contact your local Suterra field representative or reach out to our team via this link.