Puffer® IMM
for Indianmeal Moth (IMM) and other stored product moth

| Item # | Product Name | Sales Format Unit | Unit Price | Freight | Minimum Order Qty |
| --- | --- | --- | --- | --- | --- |
| 17290 | Puffer® IMM | One Puffer® | $160.00 | $1.50/unit | 6 Puffers®, per order |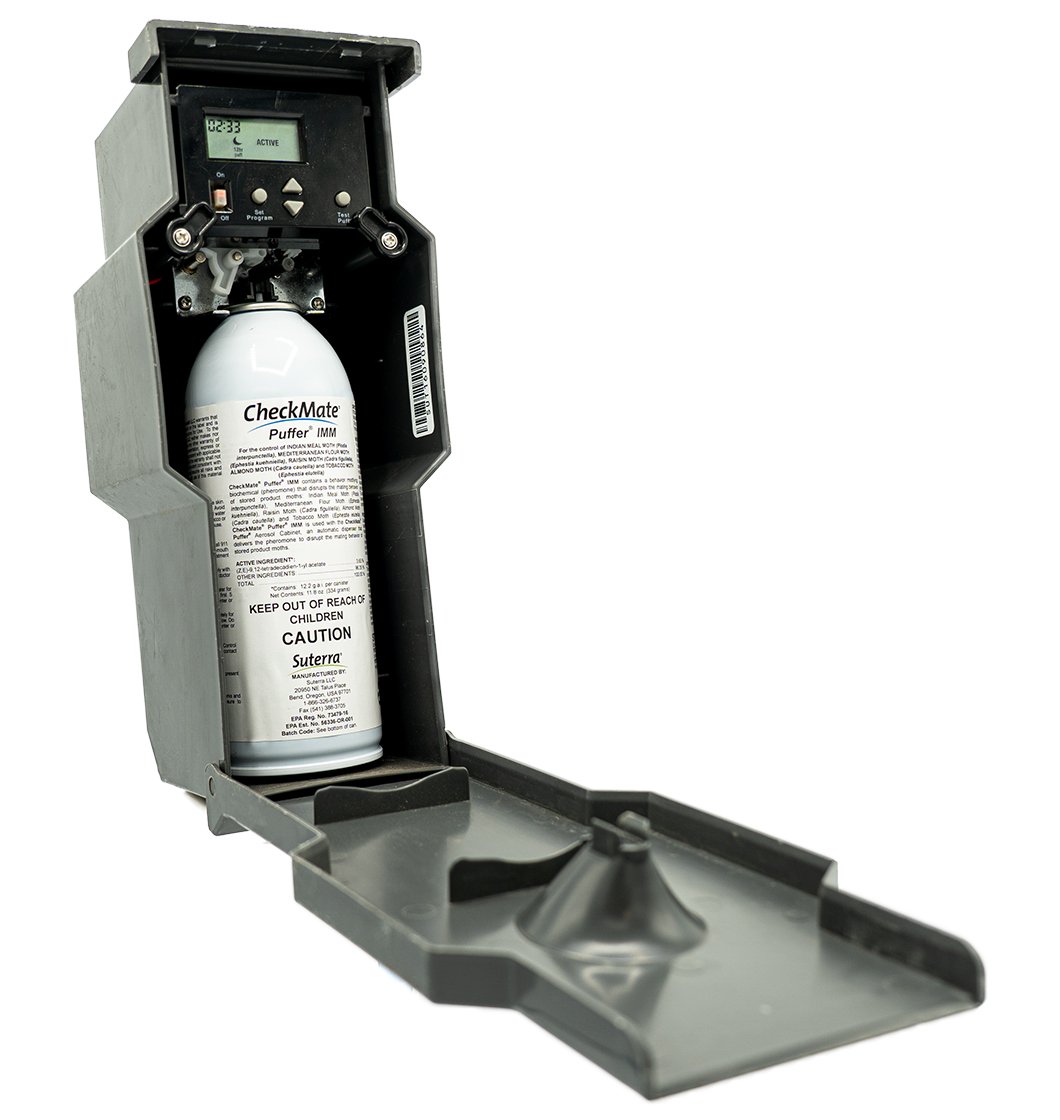 Packaging
1 Puffer® cabinet (aerosol can, plastic cabinet, 4 AA batteries, and 1 hook included)
Target Pest
Indianmeal moth (P. interpunctella)
& other stored product moths (Plodia & Ephestia species)
Active Ingredient
(Z,E)-9,12-tetradecadien-1-yl acetate 3.65%
Application Directions
Suspend an activated Puffer® Aerosol cabinet containing one full Puffer® canister from secure supports such as walls, pallets, columns, or ceiling hangers, ideally 7 to 15 feet from the floor (but higher is acceptable).
Deploy the Puffers® at a rate of 1 Puffer® per 7,300 feet2 and consider internal airflows: in case of constant internal air flows, ensure that the Puffers® are oriented in the same direction as the main airflow.
Place Puffers® where the spray is directed away from walls and open food sources.
Region & Registration
Checkmate® Puffer® IMM is registered at the US EPA level, as well as in the following states:
CA, CO, ID, WA, OR
2022 Sales Program Details
Program Period: January 1, 2022 - December 31, 2022
Sales Program Requirements & Benefits
Order Amendments & Return Policy
Order Placement & Fulfillment
Interested in purchasing Puffer IMM?
Complete the below form to request access to place orders using Suterra's online order tool. Upon submission, a Suterra team member will be in touch very soon to provide the next steps.
Thank you for your interest in Puffer IMM, Suterra will be in touch soon!