BEND, ORE.- October 14, 2021 – Suterra, the global leader in environmentally sustainable pest control, in collaboration with agriculture news publisher Farm Progress, today announced a new online course for grape growers, pest control advisers, and pesticide distributors interested in learning about Integrated Pest Management (IPM) strategies in the vineyard industry.
Titled Vine Mealybug IPM in Vineyards, the free course provides industry professionals with an opportunity to gain accredited continuing education units (CEUs).
The free course addresses the on-going threat of Vine Mealybug pests found in both table and wine grapes. Vine Mealybug is a particularly concerning pest for wine growers due to its rapidly-spreading insects and transmissible Grapevine Leafroll-Associated Viruses, which causes incurable plant disease and requires removal of the entire vine to solve. In addition to learning about the pest's biology and how to recognize it among similar mealybug species, the course highlights how growers can utilize an IPM strategy to help keep Vine Mealybug numbers low in their vineyards.
"Throughout the COVID-19 pandemic, licensed agricultural professionals increasingly relied on the convenience of online education to a greater degree than ever before," said Emily Symmes, Ph.D., Senior Technical Field Manager for Suterra. "We wanted participants to have access to timely industry insights and obtain critical continuing education hours, and this course allows them to gain a deeper understanding of our business."
Suterra developed the technical content for the course in partnership with Farm Progress, which summarizes current academic and vineyard-applied research. As the manufacturer of the world's first Vine Mealybug mating disruption pheromone products, Suterra is in a unique position to develop educational resources for the industry. After years of development and demonstration trials with leading growers in California, France, Spain, Italy, and many other regions, Suterra is committed to sharing its valuable insights with growers around the world.
The Vine Mealybug IPM in Vineyards course is accredited for CE units by the California Department of Pesticide Regulation, Certified Crop Advisers, The Oregon Department of Agriculture, and the Washington Department of Agriculture. To learn more, please visit www.agceuonline.com.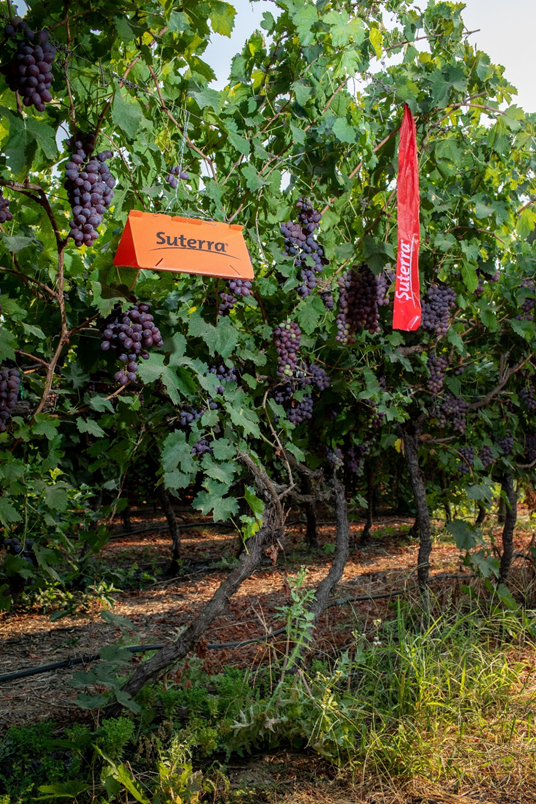 A vine mealybug pheromone-baited trap hanging in a California vineyard. ©2020 Suterra
About Suterra
Grower-owned by The Wonderful Company, Suterra is part of one of the world's largest agricultural companies and the global leader in pheromone pest control products. Leveraging over 30 years of experience in insect pest mating disruption, Suterra produces hundreds of biorational products to displace conventional insecticides and protect biodiversity in growing regions around the world.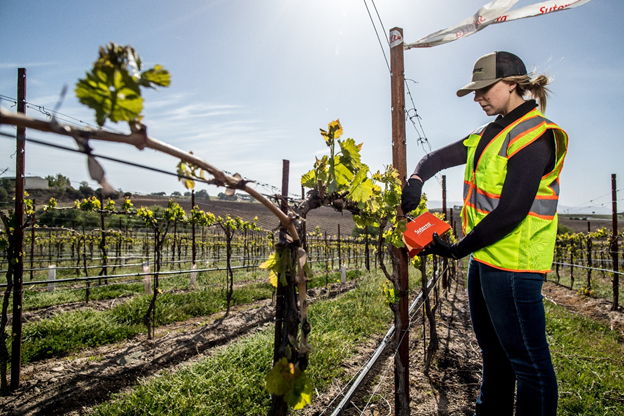 Suterra PCA Aly Pulford checks vine mealybug traps in a California vineyard. ©2020 Suterra